Up to 16 departures daily, from 8 am to 4:35 pm
From $99.99

*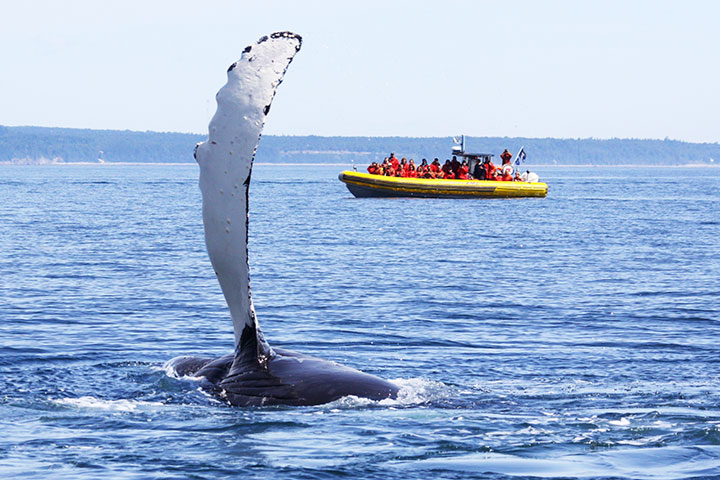 Zodiac
Come and experience an extraordinary adventure in the heart of the finest whale observation site in the world! Aboard our zodiacs, embark for an exciting encounter with the giants of the sea and enjoy a privileged contact with the grandeur of nature.
Breathtaking experience you will never forget;
Proximity with the marine fauna;
Commented cruise by the captain and/or naturalist guide aboard the zodiacs.
Observation boat
Set sail for a unique encounter with the whales! Choose the unmatched comfort and exceptional panoramic view aboard the AML Grand Fleuve and the AML Zéphyr, vessels specially designed for whale watching! Our naturalist-guides will transmit their passion for nature. You will be impressed by this visit to the heart of the Saguenay-St. Lawrence Marine Park!
Captivating excursion in the world's finest whale watching site;
Interpretation by an experienced naturalist-guide;
Plateform specifically designed for observation.
Departure from Tadoussac
The best price in Tadoussac! Aboard a zodiac or an observation boat, set out to meet the marine mammals on a whale watching cruise or discover the majestic Saguenay Fjord.
Departure from Baie-Ste-Catherine
Less than 2 ½ hours from Quebec City, meet the whales aboard a zodiac or an observation boat and discover the Saguenay Fjord!
Daparture from Rivière-du-Loup
The best kept secret for whale watching aboard a boat! Less than 2 hours from Quebec City, head for the open sea and meet the whales of the St. Lawrence.
We had an amazing time on this whale watching tour in May. You will see whales. Dress warmly and our 3 hour boat tour took us through the fjord as well. So much to see and so many gorgeous photos. Educational and family friendly.This was my first ever whale watching tour but I feel like this one would be extremely hard to beat.
paula s
This was an all around great trip! The staff was very informative and made sure we felt safe at all times. It was also really nice to hear and see them care about the whales. If a whale was acting agitated by the boats the staff made an announcement and rerouted us away from the whale. Nice to see that level of care for wildlife. Awesome time !!
MrCrocadillos
I saw many whales on this 3 hour tour. They were close enough so I could hear the noise they made when they were blowing through their blow holes but the real excitement came when 3 fin whales leapt right out of the water directly in front of our boat! They were 20 meters away. That was fantastic. People kept saying you can see whales from the shore, which you can, but not like this.
car0lhalls
Well organized and our guide was very knowlegeable and spoke in French, English and Spanish. Our guide was very knowledgeable on species and provided interesting tid bits about sea life. We saw fins whales which were twice the size of our zodiac....impressive!
Line L

If the captain considers that no whales were seen during your whale-watching cruise, AML Cruises will offer you a free ticket valid for another whale-watching cruise** /OR a guided sightseeing cruise departing from Montreal or Quebec city.
* Price per person + taxes. Prices and schedules subject to change without notice. ** Excluding zodiac cruises.